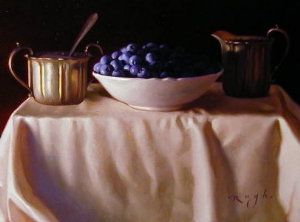 View a larger image.
Blueberries and Cream, 9" x 12" - oil/panel
Excerpt from this posting:
"...It's impossible to be impressed with oneself..."
This journal entry is now available as part of a compilation in ebook form:
Specifications:
Epub and PDF formats
102 Entries
26,700+ Words
95 Full-Color Illustrations (Oil paintings by the author.)
2006 - 2010
More information
here.