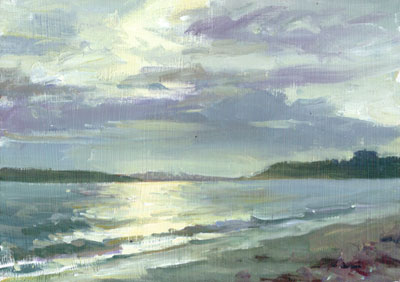 View a larger image.
Excerpt from this posting: "...It happens like this:
What should I paint? Wow, look at the light in the clouds.
Set up. Work quickly to capture the moving sky remembering what it was moments before and anticipating how it's going to become. Periodically survey the scene for unexpected events. Feel the wind on the left side of the face and then brush in the waves and then back into the clouds. The palette and hands move colors around automatically. Realize the sky is completely changed: stop. Stand back and see what happened. Just as a song or a smell can take me back to a long past memory, this painting will always take me back to that afternoon on the beach..."
-
Doug Rugh
This journal entry is now available as part of a compilation in ebook form:
Specifications:
Epub and PDF formats
102 Entries
26,700+ Words
95 Full-Color Illustrations (Oil paintings by the author.)
2006 - 2010
More information
here.
-
Doug Rugh