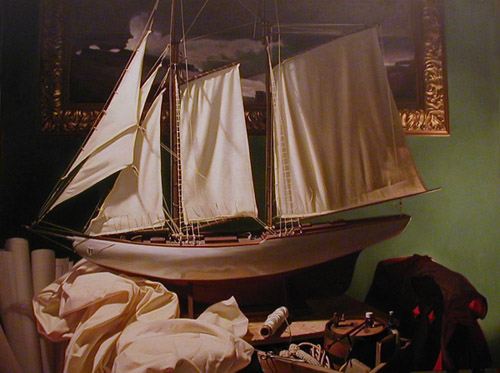 View the larger painting.

An excerpt from a chapter by the artist in
Still-Life in Oils
, edited by Theodora Philcox:
Excerpt from this posting:
"...The movement ends with a quiet crescendo of the wave, not noticed at first, in part of a painting by Winslow Homer called 'Weatherbeaten' on the wall behind. Light bounces against the shiny surface of the bow as it slides through the 'water' and the silhouette of the raincoat on the chair continues the movement of the trailing wake that follows behind..."
This journal entry is now available as part of a compilation in ebook form:
Specifications:
Epub and PDF formats
102 Entries
26,700+ Words
95 Full-Color Illustrations (Oil paintings by the author.)
2006 - 2010
More information
here.